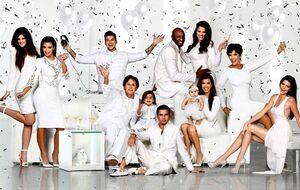 The Kardashians
is the friendship between
Showdown616
,
ThisOnePerson
,
SetRobOff
,
Danixcalifornia
,
Rage&Love
,
Demolition Lovers
,
MarauderScarlet
,
Got2BFionaC101
,
Misery Business
,
Degrassi Fan
,
Strawberrybeard
 and
Degrassi4lifeUS
.
Trivia
Declared by Nick on his userpage.
Ships
The Kardashian Family

Nick - Scott Disick
Sarah - Kourtney Kardashian
Cam - Kim Kardashian
Annie - Khloe Kardashian
Dave - Rob Kardashian
Dani - Kris Jenner
Rob - Bruce Jenner
Tori - Kendall Jenner
Kelly - Kylie Jenner
Jake - Mason Disick
Jo - Penelope Disick
Darryl - Lamar Odom
Ad blocker interference detected!
Wikia is a free-to-use site that makes money from advertising. We have a modified experience for viewers using ad blockers

Wikia is not accessible if you've made further modifications. Remove the custom ad blocker rule(s) and the page will load as expected.