The Crab Apples are a group of wikians who eliminate truly fantastic pokemon from Pansexualgirl1999's "Best Gen 1 Pokemon" and Michi Loves Muffin's "Best Generation 2 Pokemon" competition blog.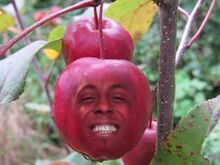 Members
KrazyGirl (Queen)
Ijustgottaburger (King)
Karen Valentine
Scallisons
Loveya
HallOfFame
CrazyChick08
Trivia
CrazyChick08 and HallOfFame had their crab apple status revoked during the duration of the gen 1 blog, but have since been re-added for continuous crab apple behavior.
BIG. MEATY. CLAWS.
Ad blocker interference detected!
Wikia is a free-to-use site that makes money from advertising. We have a modified experience for viewers using ad blockers

Wikia is not accessible if you've made further modifications. Remove the custom ad blocker rule(s) and the page will load as expected.