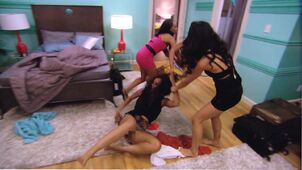 The Conflict between 2KE and almost everyone on the Wiki.
Trivia
Adam's been friends with almost everyone on the Wiki at some point, but it eventually turns into some type of conflict.
Adam frequently claims he's the 'Rick Murray of the Wiki' because of the numerous conflicts he has with people.
The conflict resulted in the creation of Adam's infamous "the End of the Rainblow" blog about members of wikia.
Notable Incidents
Adam told Tyler that he hopes he gets bullied. (He claims that he's against bullying)
Adam told Amanda to "bleed buckets of blood."
Pretended to be Cam's friend and then posted confessions anonymously about his hatred towards him.
Said that not everyone on the Wiki is beautiful because some "look beastly" and it started a massive fight involving Jo, Pearl, Sarah, etc. He then acted like nothing happened.
Pops up on the Wiki randomly whenever there's drama involving his close friends.
Called Nate "another Pee Wee Herman", said Icy looked like a moose, Steph had "jungle tits", Hannah had "bubble cheeks", and that 

Lindsey was an ug

ly duckling.
It was suspected that Sarah was Adam because they had matching IP addresses for unknown reasons.
Ad blocker interference detected!
Wikia is a free-to-use site that makes money from advertising. We have a modified experience for viewers using ad blockers

Wikia is not accessible if you've made further modifications. Remove the custom ad blocker rule(s) and the page will load as expected.